Our Homes
Chestnut House is a well established care home with a good long standing reputation. We focus on providing a high standard of care for people with dementia.
Our highly trained team ensure that every individual's needs are met in a person centred and dignified way. We offer:
Permanent placements
Day care services
Respite care and
Rapid response services for emergencies
All enquiries and personal viewings are welcome at any time.
What we offer
We offer permanent placements, day care services respite care and rapid response services for emergencies All enquiries are welcome and a personal viewing can be arranged to suit.
Please have a look at our reviews here
Accomodation & Housekeeping
Our Accommodation
Chestnut House has thirty-nine bedrooms in all which includes two double rooms. Each bedroom is fully equipped with en-suite facilities. Our communal bathrooms, toilets and shower/wet rooms are spacious and private.
Our bedrooms have been furnished with a 'home from home50' feel and personal items are always welcome so that each bedroom has its own individual and personal touch. Upon a resident's admission, each individual has their own input towards the décor of their room.
We provide soft lighting, wardrobe space, chest of drawers and other item upon request. Each room has its own room key and a lockable drawer for storage.
All bedrooms and en-suites are maintained to high standard of cleanliness. This is accomplished by our highly experienced domestic staff who are on duty seven days a week.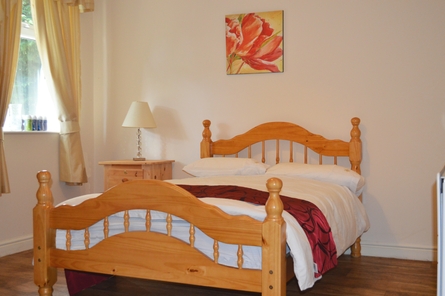 Our Dining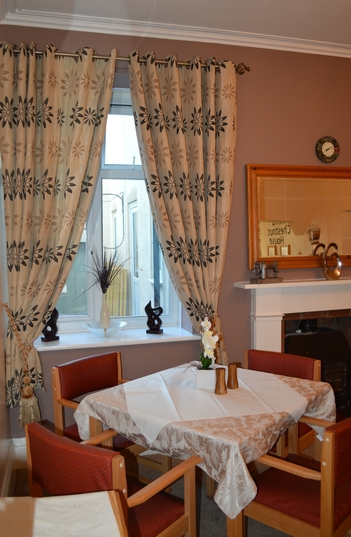 At Chestnut House, dining is social occasion which incorporates a café environment. All residents are encouraged to dine within our newly refurbished café dining area. This creates a more social experience that would occur in everyday life.
We offer a wide variety of choice in food and drink, giving optional extras at all times. Our home can provide specialist dietary requirements to suit the individual's needs.
We have a two week menu that consists of breakfast, lunch, dinner and supper all with alternative options dependant on the individual's preference.
Chestnut House displays a pictorial menu as well as a written one to assist people to make their preferred choices. We also create a café feel via displaying the daily menu on a chalk board.
Throughout the day, our residents can help themselves to cold drinks, fruit, chocolate and sweets, located in our café area. A choice of hot drinks is served throughout the day and on demand.
Our Facilities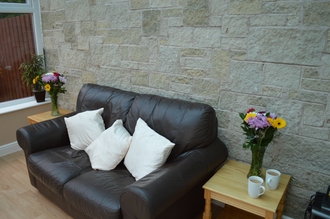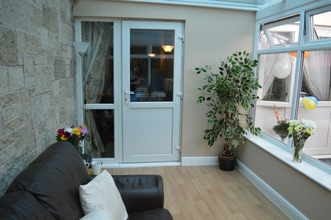 We at Chestnut House have a large homely lounge area which is bright, airy and lends itself to giving a lot of space for people mobilise freely.
Our smaller lounge area is a quieter environment where people can relax and read. We also provide a music lounge which plays music via our gramophone. All residents taste in music our catered for via our vast music collection.
Our themed corridors are user friendly with hand rails at each point to encourage independence at all times. Over the past year chestnut house has undergone major refurbishment to its communal areas this is to encourage conversation dn visual stimulation. These themed areas consist of:
Music room
Café
Royal walk
Seasonal corridors (spring, summer, autumn, winter)
Movie star inspired corridor
Seaside themed corridor
Relaxation conservatory
Reading area – which accommodates our homes pet Budgie
We have staff on duty twenty-four hours a day all year round who are trained and experienced. We also operate an out of hour's emergency on call system.
We have a treatment room that is used by District Nurses seven days of the week.
We have a robust medication service to ensure that all individuals' medicinal needs are catered for, along with a regular GP visits. Chestnut House works closely with relatives and health professional to ensure that mental and physical well-being are optimised.
We have a conservatory which doubles up as a relaxation room, this over looks and accesses our peaceful, user friendly and private garden area.
There is an on-site laundry service at Chestnut House where all personal clothing is washed, dried and pressed by our housekeepers and placed back in each person's bedroom. All clothing and personal items are inventoried on a regular basis.
We have a passenger lift in place for people who reside on the first floor.
Visitors at made to feel welcome at all times.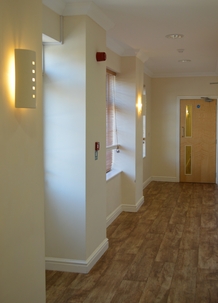 Our Activities
At Chestnut House, we believe that busy hands and active minds are a good combination for adding quality to life. We have daily activities and we are always updating them to ensure that we cater for everyone as much as possible.
We look at stimulating the following senses within our activity programme;
Sight, sound, smell, touch and taste senses.
Our activities also encourage communication which is important. For people who prefer to engage in less active activities or prefer to be alone, we offer stimulation through our relaxation area which is located in the conservatory.
Our garden area offers the choice of going out-doors safely and wherever possible, independently
For people who enjoy Church, our local vicar attends Chestnut House on a Sunday afternoon every six weeks to carry out a service. Other religious needs are catered for at Chestnut House.
Professional entertainment is also arranged and this takes place in our large lounge area. Function and event are also booked throughout the year.